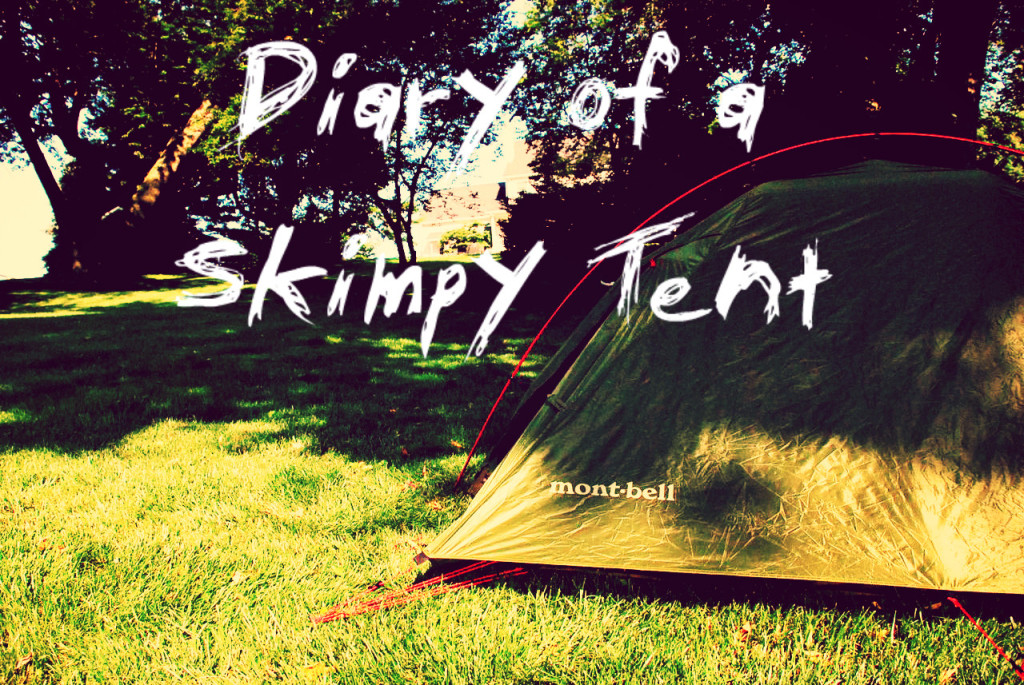 Once upon a time, Chopper and Cher were lightweight-crazy about their camping/hiking gear. In order to save weight, Chopper spent many sleepless nights on a woman-size Therm-a-Rest ProLite sleeping pads, while Cher painstakingly tried to keep her down sleeping bag away from the wet single-wall tent during cold nights. We did choose this skimpy little Mont-bell Crescent 2 tent for good reasons: it is super lightweight (only 3 pounds), durable, waterproof, easy to set up, and it has a full mesh wall on one side which maximizes the air flow during the dry nights with the rainfly rolled up.
The design is simple and brilliant, yet it was before long that we started to hate its lightweight brilliancy. First of all,  the single pole construction leaves us a very limited head space. We had to take turns to get dressed and pack in the tent simply because it was too crowded for two. Being a very tight 2-person tent,  It is said that this tent can shelter 3 people in emergency, but I think the third person has to be a child under the age of 8 or 3 people have all to be slim Asians. Also, the single shoulder-width entrance is quite challenging to crawl in and out of quickly during rainy days. And when it comes to cold rainy days, the tiny entrance is the least of your worry – the single wall side is always there for you and your down sleeping bags, wet and dripping.
As we decided to strike a balance between comfort and lightweight, we upgraded our headquarter to a double-wall 3-person tent with dual entrance. In memory of our old skimpy little tent, we put together a slide show to remind us those intimate (sometimes uncomfortably so) nights we had.
Tent and a hammock
Tent and a hammock
Car camping at its finest
Oregon
Night before early ferry ride to Isle Royale. Small tent among giant RVs
Chickenbone Lake
Climbing in Hong Kong
Climbing in Hong Kong
Big Agnes Copper Spur UL3 tent
Rainy day camping at a hot spring
Camping at a local restaurant
Japan climbing trip
Japan climbing trip
With new tent, second time around!
Japan climbing trip
Slideshow jQuery

by WOWSlider.com v4.7m